Nyord Harbour
Nyord habour, port on Møn
Nyord is one the Denmark's pearls, a place you absolutely have to visit. It is just like stepping into another time – peaceful and with its very own rhythm. The harbour lies on the northern side of the peninsular of Ulvshale in Bøgestrømmen between Zealand and Møn. The town lies on a hill of moraine soil, providing shelter for the harbour. Old farms are still collected around the little town with approximately 41 inhabitants. Cars are not welcome in the narrow streets; they have to be parked outside town.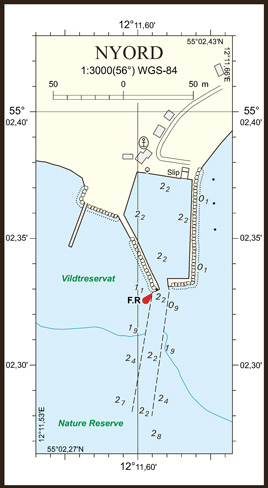 Lollesgaard – the island's small pub and restaurant – is highly recommendable. You can also pay a visit to the small café and its little shop. Here you can buy, among other things, the very unique Nyord Mustard. Apart from that, shopping opportunities are limited to a small kiosk, which has a surprisingly broad selection of groceries.
The natural surroundings of Nyord are unique and known as one of Denmark's very best destinations for birdwatchers. You will get a great view of the area from the public birdwatching tower on the way from the bridge to Nyord town. Earlier, the inhabitants of Nyord made their living with pilotage, guiding ships through the shallow waters around the island. The small pilot observation shag on the highest point of the island outside Nyord town is a reminder of those old times.