Ishoej Harbour
The climate at the harbour Ishøj Havn is marked by high speed and activity. The many sailing clubs at the harbour contribute to the intense atmosphere that often characterises harbours. The harbour is built on artificial islands, Søhesten and Hummeren (the Sea Horse and the Hummer), which divide the area into several small pockets. This allows for comfortable surroundings that you wouldn't otherwise experience in a large harbour. Here you will find green areas, the beach and all the fresh air you could wish for.


On each of the islands you will find a restaurant, bathrooms, toilets and barbeque areas. In addition there is a small convenience store, a maritime clothes shop, a sail maker and a boating supply store. Tempo Bådsalg – one of Denmark's largest boat retailers – have their sales outlet at Ishøj and use the jetties close to the store and harbour office as their sales area. Guests are free to use the remaining spaces, marked with green signs. The harbour has a Blue Flag, proving that the environment is top-grade.
There are great facilities catering to children. The island Vandhunden (the Water Dog) has a nice nature centre where children can participate in various activities.
The sand from Køge Bay was used to establish Køge Beach Park in the 1980's, and today the 5km2 large recreational area contains beaches, dunes, lakes, and meadows. Only 200m from the harbour you can enjoy all the activities the sea has to offer.


The modern art museum Arken is only a 200m distance from the harbour and offers experiences no one should miss out on. If you want to discover even more, you can take advantage of the great bus connections directly from the harbour.
And the train goes straight to central Copenhagen with all its attractions.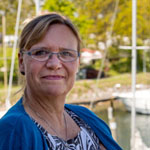 Havnekontoret
Søhesten 3 B
DK-2635 Ishøj
Tel +45 43 73 00 04