Skaelskoer Harbour
Skaelskoer Harbour – Sunshine City near the Great Belt
Skælskør Harbour lies at the end of the 2,4 nml long fjord, cutting inland from the Great Belt. It is an incredibly beautiful approach with leading lights, and the harbour is situated directly at the fjord in the city centre. There are plenty of shops and it's only a short walk to the local bakery. The area offers great excursion opportunities along green paths and in the idyllic market town.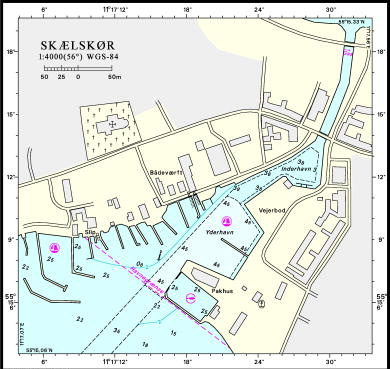 Take a walk along the beautiful bathing beach only a few kilometres away from the harbour where it's rarely crowded, but you will always have a great experience close to nature. Or enjoy our great bird watching localities that you can reach by bike, which can be borrowed at the harbour free of charge.
From Skælskør Harbour you can enjoy the backcountry and its beautiful natural landscape. In brief: A wonderful experience in itself – and manageable. Here everything breathes peace and quiet.
At the harbour in Skælskør you can also find the Skælskør Boat Guild. They are always ready to welcome visiting sailors and are happy to share their facilities with you, such as the kitchen, barbeque area and club house.
Welcome to Skælskør Harbour.
Havnevej 20
DK-4230 Skælskør