Hestehoved Yachtharbour
Hestehoved Yacht Harbour in Nakskov Fjord
Hestehoved Yacht Harbour lies in a stunning, recreational area a few kilometres outside the town of Nakskov. The harbour was dug out with shovels and spades during the 40s and the soil was used to build a sledge slope, right where Restaurant Fjorden is situated. Nakskov Fjord Camping lies near the harbour providing shopping opportunities and activities. Here you will find peace and quiet, and the harbour is known for its hospitality.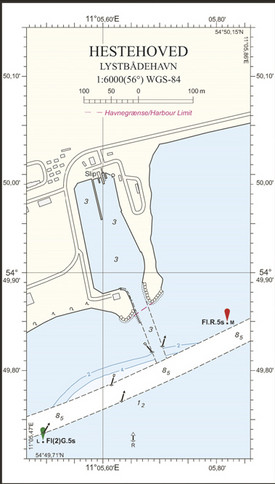 The journey through Nakskov Fjord past all the small islets is an experience in itself. On the way, there are several fine anchorages with swimming opportunities.
With its restaurant, golf course, kiosk, beach volley and the child friendly Blue Flag bathing beach near the harbour, possibilities for entertainment are aplenty. The fact that you have a great view over the fjord only adds to your stay at Hestehoved Yacht Harbour. Connected by a bridge, the little island of Kuddeholm is, despite its size, the homestead of about 100 plant species, many of which are protected.
Hestehoved Yacht Club has a great, newly constructed clubhouse with a sailors' lounge, which guests are welcome to use.
Hestehovedet 2
DK-4900 Nakskov
Tel +45 54 95 17 47