Hammer Harbour
More than DKK 25 million has been invested in this port, formerly used for the embarkation of granite quarried nearby, and nestled in a magnificent scenic setting at the foot of the Hammershus Castle Ruin. The investment has resulted in beautiful granite edging, brand-new service facilities, a café and interesting signboards telling the history of when the granite quarrying industry employed more than 300 people at the harbour.
Visiting yachters are welcome in the outer basin and at vacant berths in the inner harbour. Hammer Harbour has no village activities or modern service facilities on offer, but is a beautifully situated harbour in scenic surroundings. The harbour is an ideal point of departure for hikes through the Slotslyngen or Hammerknuden nature areas.
Regardless of whether you wish to immerse yourself in nature, the abandoned quarries, or the riveting history of the largest castle ruins in Northern Europe, this site is unique in many ways.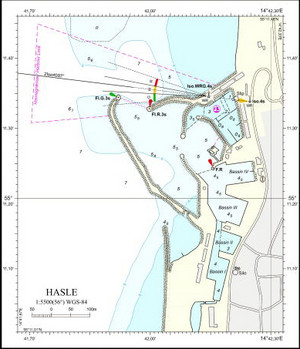 Position
55°16.7'N / 14°45.4'E
See the harbour map and navigation here
Note that the website is Danish only – use google translate
Maximum ship size:
that can navigate the port depends on the instantaneous wind, current and wave conditions and the instantaneous water level and depth conditions.
Under favorable conditions, is the largest ship that can enter the harbor:
Length 50 m
Width 15 m
Draught 2.7 m
A new visitor's centre for Hammershus, partly blasted out the rock, is being built on the basis of sketches made by world-renowned Danish architect Jørgen Utzon. A guided tour on one of the harbour's tour boats through the area's fascinating scenery culminates when the boat enters one of the deep clefts in the cliffs just south of Hammer Harbour.
If you like guided angling trips at sea, then book your place on the local trolling/ jigging boat for an unforgettable angling experience. Hammerhavnen Harbour is a fine base for unique skin-diving experiences, like exploring the biggest accessible wrecks in northern Europe, or the caves of Hammerknuden Peninsula where skin-divers can explore deep under the peninsula.
The harbour has also become a base for outdoor activities where the undertaking Go Bornholm provides a wide programme of experiences. The island's biggest music festival "Wonderfestiwall" is held over several days in August and is within walking distance from the harbour. A few hundred metres from the harbour is Bornholm's largest lake, Hammersøen, featuring a barbecue shelter and an observation dock.
You can also try riding down Denmark's longest aerial cableway and landing in Opalsøen Lake. The harbour has a small sandy beach. The closest village is Sandvig (2 km). Welcome to Hammer Harbour!
Sænevej 3
DK-3770 Allinge
Tel +45 56 92 23 24
Send an email