Den flotteste portal over danske lystbådehavne
Marinaguide - the finest online directory
for yacht harbours and marinas
Marinaguide.dk is so much more than a harbour handbook.
This sailors' guide will provide yachtsmen and recreational sailors
with the best overview imaginable when planning for the next port of call.
Under the slogan 'Sail and See', sailors will be introduced to the Danish harbours
and the experiences than lie ahead once you are on dry land.
Nyheder fra lystbådehavnene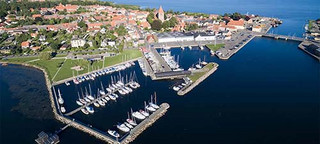 Vordingborg Lystbådehavne nedsætter i 2023 havnepengene for gæstesejlere. Samtidig får man en gratis overnatning med i købet, hvis man bliver i havnen i to døgn.
Så hvorfor ikke lægge sommeres tur forbi Vordingborg Nordhavn, Præstø, Kalvehavne, Klintholm, Bogø, Hårbølle, Skåninge Bro, Masnedsund eller Stege? Læs mere her
Margretheholms Havn, kendt som Lynetten, har fået en klapbro. Skal du besøge København, kan du læse mere om åbningstider og om havnen midt på Christianshavn i denne artikel.